Support Pullquote, upgrade to Pro!
(Or just tweet your Pullquote for free!)
With Pullquote Pro, you'll get to:
- share on Facebook
- schedule tweets
- tweet from multiple accounts
- edit quotes
- customize colors
- change fonts
- save and index quotes
- private quotes

Choose a plan:
$5/month
$50/year (includes free access to any new features)

Recent quotes:
How Google made the world go viral - The Verge
And here is where you get into the circular nature of his argument against Google's influence. Thousands of food bloggers are searching for advice on how to optimize their blogs for Google. The advice that sits at the top of Google is bad, but they're using it anyway, and now, their blogs all look the same. Isn't that, in a sense, Google shaping how content is made?
Yandex scrapes Google and other SEO learnings from the source code leak
Combing through those, we find that there are actually 17,854 ranking factors in total. Included in those ranking factors are a variety of metrics related to: Clicks. Dwell time. Leveraging Yandex's Google Analytics equivalent, Metrika.
Verily tangos with a health tech partner — and steps on a few toes - STAT
In his presentation, Conrad described tremendous potential for its work with Dexcom to help patients connect factors like diet and exercise with their blood sugar levels. And he showed an image of the new device, which is smaller than a quarter and called the G7. Conrad also announced — for the first time — that the device contained an accelerometer, so patients could see in real time how exercise impacted their disease. The Dexcom CEO said he was not pleased about Conrad's decision to share the image or to announce the accelerometer. He didn't want competitors to know about either detail, he said. More importantly, he isn't certain the accelerometer will make it into the version of the device slated to launch at year's end, he added. "That is a competitive thing that I actually did not want disclosed," said Sayer, who is known as a straight shooter. "I'd rather that not even be public. We haven't told anybody and we weren't planning to."
Vélemény: Gyáva - NOL.hu
During Tickets and all other activities of terrorist attacks in the bus terminal - topped with the words TEK up Janos Hajdu-chief presented to the Prime Minister late-night spectacle . The counterterrorism megfogalmazásunkat probably indignantly rejected, as was a serious exercise. But the commando techniques rarely is often presented to the public and foreign visitors. Sharp right position for the enemy unexpected, but well-rehearsed devices are the most important advantages. This only endangers the public initiation.
Google AMP Is Also A Mobile Ads Revolution
"There are basically two ways to address the questions of AMP applied to ads", said Craig DiNatali, who is director of news and magazines partnerships at Google in New York. "You can have creative units based on AMP which render ad formats in the same way AMP contents pages are rendered. In such case, we have an AMP format within an AMP Frame". This options comes with several problems such as the reporting of elements that goes beyond a simple count of pages views. This is because advertisers and media buying agencies rely on complicated metrics to measure the impact of ad formats that are mostly sold on performance. This leads to another, much easier to implement solution: providing tools to build advertising landing pages with images and information, all AMP-compliant. Also, in order to invest time and money in AMPed ad formats, creative agencies need to be convinced that the visual potential of the accelerated format will remain the same, or even that AMP will offer more attractive alternatives.
There Are Now 2,000 YouTube Channels With At Least One Million Subscribers - Tubefilter
As YouTube analytics site VidStatsx shows, there are now more than 2,000 channels with seven-digit subscriber counts. T[…]on February 23, 2010 — YouTube's 5th birthday — there were only five channels with at least one million subscribers. Two years later, that number was up to 68; two years after that, 594; and now, two years and five weeks later, there are 2,000 "YouTube millionaires." In the past year alone, more than 850 new channels have claimed that title.
Google and Facebook go after Go
Google DeepMind employs more than 200 AI researchers and engineers. Over the 18 months or so it's spent on AlphaGo, the team ballooned from two or three people to 15, Hassabis said. "Go is a pretty sizable project for us," he said. DeepMind recently hired Matthew Lai, a London researcher who developed a system capable of playing chess at the grandmaster level. His software was able to reason in a way similar to how humans do, a more efficient method than IBM's attempt to crunch every possible outcome before making a move in the 1990s.
Why Google+ will fail: social networks grow like trees, not on them
Though Google+ is an elegant piece of engineering, it's not a social network. Jason and Jeff love Google's technical innovations. Sure, normal technology thrives because of technical brilliance, design beauty and marketing megatonnage. But social networks are affected only marginally by those factors. Instead, in social networks, the users are the product. Users' habits and passions and commitments to each other are the life-force that makes a social network grow. Just as you can't build a tree from a bunch of boards, you never could have constructed Facebook or Twitter or eBay or LinkedIn or Wikipedia top-down with a bunch of prefab components. Launching with one hundred million users or a $100 million marketing budget would have more likely killed those sites, not grown them.
Project Fi
For now, Project Fi is available only for accounts with an @gmail.com address
So these guys are making a watch
Google chairman gets called out for cutting off a woman while talking about diversity at SXSW
"Given that unconscious bias research tells us that women are interrupted a lot more than men, I'm wondering if you are aware that you have interrupted Megan many more times," she asked, which immediately prompted a round of cheers and applause from the packed room. On her part, Smith, a former Google executive, seemed unfazed. "It's an interesting thing, unconscious bias," Smith said. "It's something we all have and it's something we have to really debug."
Check Out Google's Insane Plans for a New Headquarters
Google ignores the northeast and midwest?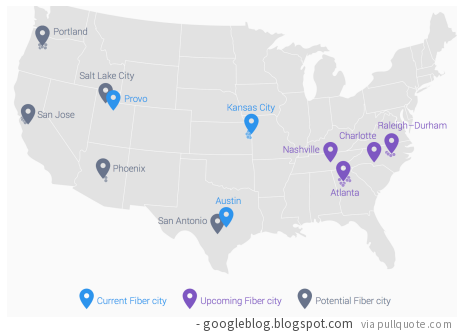 "The good thing about laws is if they don't exist and you want one - or if they exist and you don't like them - you can change them," Levandowski told students at the University of California, Berkeley in December. "And so in Nevada, we did our first bill."
Metafilter came from two or three internets ago, when a website's core audience—people showing up there every day or every week, directly—was its main source of visitors. Google might bless a site with new visitors or take them away. Either way, it was still possible for a site's fundamentals to be strong, independent of extremely large outside referrers. What's so disconcerting now is that the new sources of readership, the apps and sites people check every day and which lead people to new posts and stories, make up a majority of total readership, and they're utterly unpredictable (they're also bigger, always bigger, every new internet is bigger). People still visit sites directly, but less. Sites still link to one another, but with diminishing results. A site that doesn't care about Facebook will nonetheless come to depend on Facebook, and if Facebook changes how Newsfeed works, or how its app works, a large fraction of total traffic could appear or disappear very quickly. Of course a website's fortunes can change overnight. That these fortunes are tied to the whims of a very small group of very large companies, whose interests are only somewhat aligned with those of publishers, however, is sort of new. The publishing opportunity may be bigger today than it's ever been but the publisher's role is less glamorous: When did the best sites on the internet, giant and small alike, become anonymous subcontractors to tech companies that operate on entirely different scales?
Phoenix; Scottsdale, Ariz.; Tempe, Ariz.; San Jose, Calif.; Santa Clara, Calif.; Sunnyvale, Calif.; Mountain View, Calif.; Palo Alto, Calif.; Atlanta; Avondale Estates, Ga.; Brookhaven, Ga.; College Park, Ga.; Decatur, Ga.; East Point, Ga.; Hapeville, Ga.; Sandy Springs, Ga.; Smyrna, Ga.; Nashville, Tenn.; Charlotte, N.C.; Carrboro, Cary, N.C.; Chapel Hill, N.C.; Durham, N.C.; Garner, N.C.; Morrisville, N.C.; Raleigh, N.C.; Portland, Ore.; Beaverton, Ore.; Hillsboro, Ore.; Gresham, Ore.' Lake Oswego, Ore; Tigard, Ore.; San Antonio; and Salt Lake City.
I achieved my purpose of Eric saw me looking so gorgeous and so fantastic and so young, so cool, so chic, so stylish, so funny and he cannot have me. I'm not ever feel sad ... about losing Eric .... Plus he is really really ugly.
According to an article by Alex Garrido, Google Prefers Verified Authors (Google Author Rank Exists), Google's created their very own Klout score for each online content-producer. This Author Rank reflects your influence, popularity, and even your focus and expertise.
"I worked at Google for 3 years and it was very difficult to leave but there was one major factor that helped me make the decision - the impact I could ever have on the business as an individual was minimal. As noted in many answers below, Google is an incredible machine that prints money thanks to AdWords. Unless you are an amazingly talented engineer who gets to create something new, chances are you're simply a guy/girl with an oil can greasing the cogs of that machine."
We're told the extent to which Rosenberg and Wojcicki overlapped is a matter of dispute between the separated philanthropists—but even if they can split amicably, knowing that one of the most vital, powerful men at the company has been using Google's most ambitious product as a dating pool won't be smooth news for the rest of the team. And of course, the odds of grotesquely 21st century sex tape existing are now very high.
Back in 2004, the first thing Gibbs built on his shuttle trips was a URL predictor. So, as you started typing a URL into a browser, it would autocomplete the remaining options by analyzing Google's immense corpus of Web content. Kind of like how, in Outlook, when you started typing an email, the names of the people in your address book would pop up — but on a much larger scale. A co-worker — Gibbs now can't recall who it was — looked over and said, "That's cool, what if you did it for search?" So Gibbs redid the system. It clicked right away. Search leaders at Google, including Jeff Dean and Rob Pike, got wind of the feature and started promoting Gibbs's work internally. Mayer contributed the name "Google Suggest." But before the product could launch, Gibbs had to personally create the blacklist of words that wouldn't appear on Google Suggest. Since the feature would be actively showing results before someone had finished a query, there was a huge risk of Google putting forth something that offended people — even if it was the most likely result algorithmically.
Offline maps. This feature is something of an Easter egg. It's undocumented, a feature inserted by Google engineers simply because they wanted it. You can access it only if you know the secret. But wow, is it worth it. This feature memorizes the map data for whatever area is displayed on your screen right now (up to a whole city in size). That way, you can use Google Maps even when you're overseas and don't want to turn on data roaming (because that's insanely expensive), or when you're in an area where there's no cell reception. It's very handy. To capture a map snapshot like this, tap in the Search box. Use the speech-recognition button and say, "OK Maps." (It's a riff on the command "OK Glass" that prepares Google Glass, the company's "smart headband," for voice commands.) A message quietly lets you know you've successfully stored the displayed area.
So I've just spent two weeks immersed in voice recognition. I carried an iPhone and a phone running Google's Android operating system with me everywhere. I spoke to both phones simultaneously. I wanted to get to know the differences, the strengths, the weaknesses.
Most of the earnings miss, meanwhile, came from Google increasing investments in new products, including mobile, smartphones, tablets, "Chromebook" PCs, Google Fiber (a cable-company killing TV and Internet subscription service) and other initiatives. In the short term, these investments reduce Google's profit margin. But over the long haul, at least some of them should pay off.
The company plans to spend as much as $500 million to market Motorola's new flagship smartphone, the Moto X, starting later this year and it's working on a slew of other devices, people familiar with the matter have said.